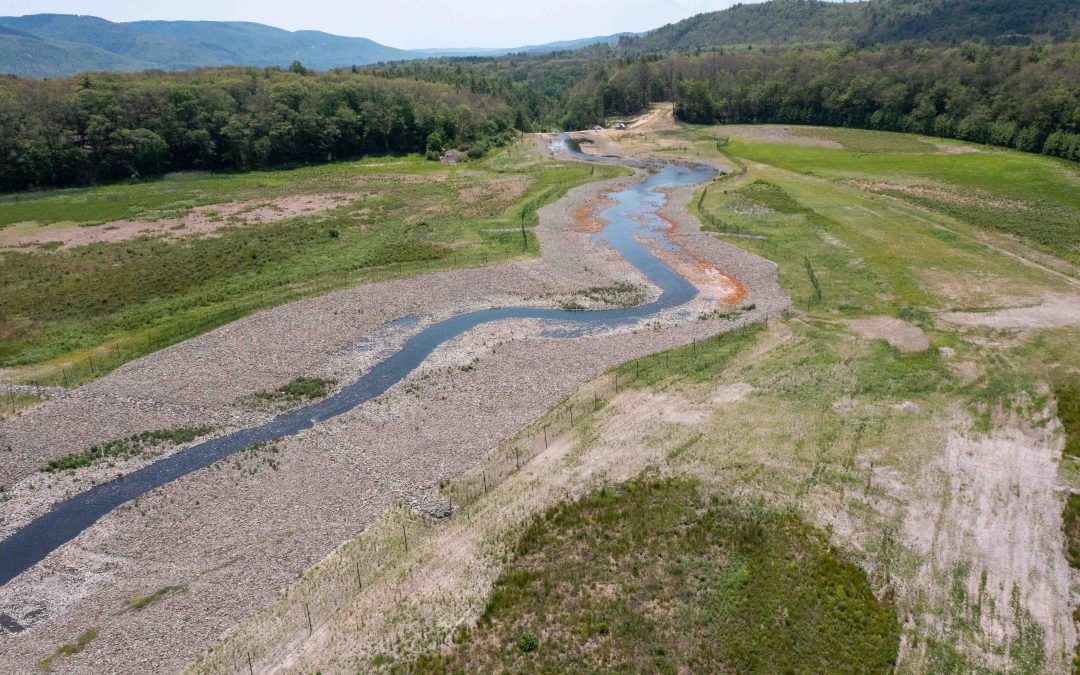 Projects:
Honk Falls, and a Free(er) Rondout Creek
We finish an 18-month project at the former Honk Lake, as the Rondout Creek returns to swift-running water in the Catskills.
It's always satisfying to see a lakebed returned to a running stream. At the former Honk Lake in Wawarsing, New York, the old dam was lowered, effectively removing its ability to impound the Rondout Creek.
With the lake drained, and the creek running again, it wasn't long before the herons, blackbirds and kildeer were searching the creek's rocky edges for food This spring, the water by the new spillway was teeming with baby frogs.
We worked with contractor A. Servidone for this project, as they diverted half a mile of stream to allow work on the dam. The existing spillway and penstock was demolished, and a new cap installed.
Three river-cobble riffles were installed along the course of the stream to add oxygen to the water, and to create fish and insect habitat.
The effect of constructed riffles is to mimic naturally-occuring streams, where water speeds up and tumbles over stony obstructions, landing in a calmer pool below and making excellent fish habitat.
Along the stone-armored shores of the newly-free river, hundreds of trees and shrubs were planted, and the underlying seed bank — there, under the lake, for who knows how long — began to sprout.
In the years ahead, willows, river birch, serviceberry, buttonberry and more species of a diverse and native forest will take the place of the old lake.
And despite the hatching out of millions of hungry and defoliating gypsy moth caterpillars, the newly-planted forest is growing.
Allman Environmental Services Photography worked with Servidone from the preconstruction to postconstruction stage of the Honk dam project. I'm looking forward to coming back in the fall to see how the new trees have developed over a single season.
In New York State — as elsewhere across the northeast — many dam removal projects are underway, returning streams and rivers to their natural, free-flowing state.
With several years' experience in this area, Allman Environmental Services Photography is happy to provide photo and video documentation for dam decommissioning and stream rehabilitation projects.
HONK FALLS DAM DECOMMISSIONING
---
Contractor: A. Servidone/B. Anthony Construction
Owner: New York City DEP
______________
Challenging terrain, geography and environments are a personal specialty.  Capture the energy of your team at work, on training and field exercises, with heavy equipment or in challenging environmental conditions. These photos can be used again and again: in annual reports, your socials, on office walls and other marketing deliverables.  -Suzanne
CERTIFIED:

SBA-certified WOSB, New York State- and City-certified WBE, and Port Authority certified DBE

REGISTERED:

SAM & ORCA. Experienced in Federal Government contracting and subcontracting.

WILDLAND FIREFIGHTING CERTIFICATES

S-130/190, L-180

FAA PART 107

Since 2017

DUNS:

839898728.

FEIN:

84-2603642
We accept all government agency purchase orders and credit cards.
145 NEPERAN ROAD, TARRYTOWN, NY 10591