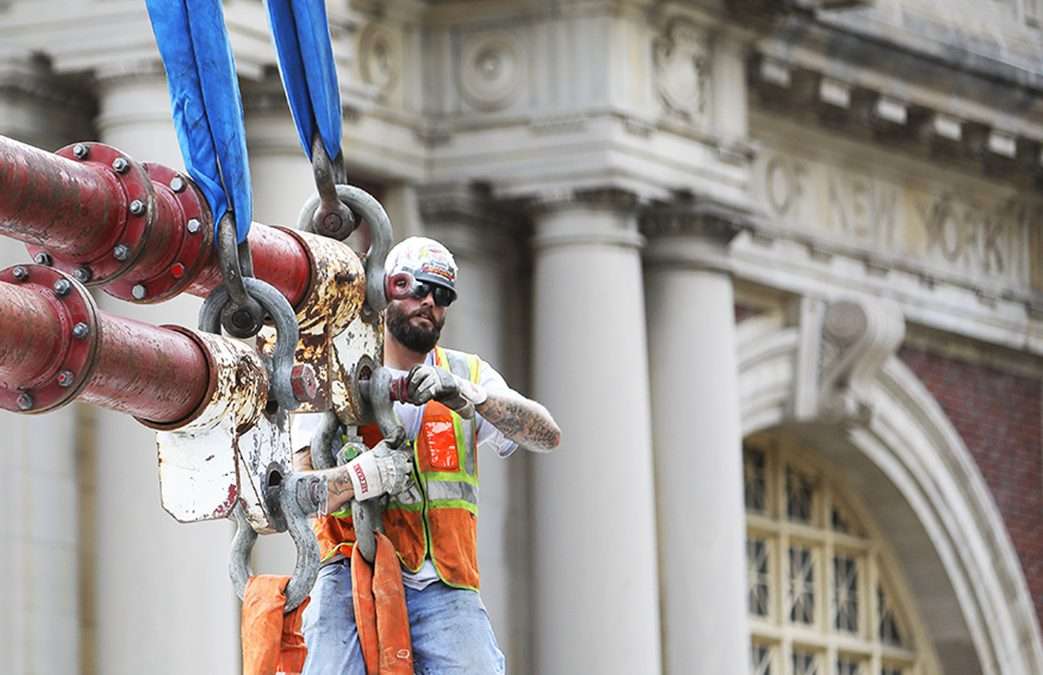 Setting the Gate:
New 45-ton Floodgate in Asser Levy Park, New York City
Work on our photography contract with they city's 1.5-billion East Side Coastal Resiliency Project continues, as a new 45-ton, nearly 80-foot long gate at Asser Levy Park is installed.
The massive gate was trucked in on a flatbed, and raised into position in front of the gorgeous bath house, opened in 1908 to alleviate sanitary problems in the city. Many New Yorkers, especially immigrants living in overcrowded tenements, had no place to bathe.
The floodgate will close when the city is forecasted to receive major surges of ocean water from coastal storms.
The gate rolls on slowly-moving wheels, taking a full five minutes lock into place and block off the southern portion of the park, which opens onto East 23rd Street, from potential flooding. 
Asser Levy Park is the first of five parks being redesigned or rebuilt for the $1.5 billion East Side Coastal Resiliency project, which is set to provide flood protection for nearly 100,000 area residents.
______________
Challenging terrain, geography and environments are a personal specialty.  Capture the energy of your team at work, on training and field exercises, with heavy equipment or in challenging environmental conditions. These photos can be used again and again: in annual reports, your socials, on office walls and other marketing deliverables.  -Suzanne
CERTIFIED:

SBA-certified WOSB, New York State- and City-certified WBE, and Port Authority certified DBE

REGISTERED:

SAM & ORCA. Experienced in Federal Government contracting and subcontracting.

WILDLAND FIREFIGHTING CERTIFICATES

S-130/190, L-180 

FAA PART 107

Since 2017

DUNS:

839898728.

FEIN:

84-2603642
We accept all government agency purchase orders and credit cards.
145 NEPERAN ROAD, TARRYTOWN, NY 10591