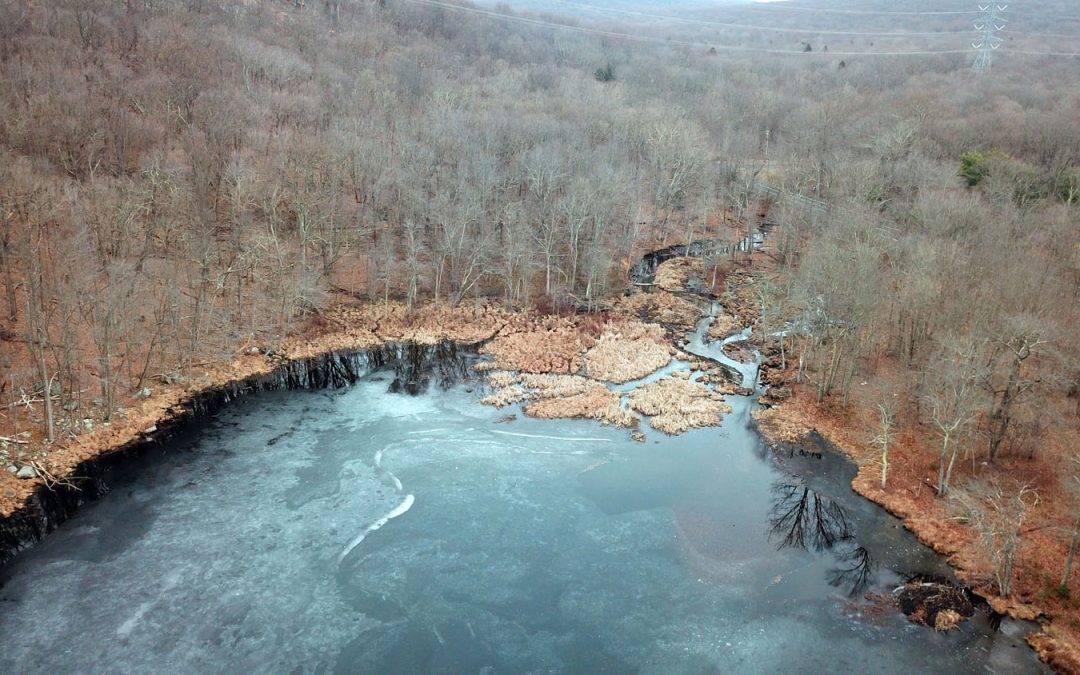 Last Days of Lake Hudsonia Dam
Another Dam, Too Expensive to Repair, To Come Down
Lake Hudsonia Dam, Dec. 28
This year, I became a dam-removal enthusiast.
I think there are probably a lot of us out there, and our number is growing as dam removal has a "moment".
Fans of free-running rivers, we like it when old dams come down. We like to see rivers return to their natural course. And, especially, we like the thought of reconnected habitat: of fish, once blocked from spawning upstream, finding a clear path to quiet pools in spring.
I had read that the contract for removing the Lake Hudsonia dam is out for bid. After nearly a decade of discussion, that part of the Hibernia Brook, impeded for decades, will finally run free. I wanted to see what the dam and the lake look like before the structure was removed. And I wanted to make sure to gather "before" pictures, to hold up against the "after"s.
So I took my cameras and headed to Rockaway Township, in New Jersey.
The Dam
The dam is located in Rockaway Township, in New Jersey. It impounds a small lake — a pond, really — for about 1.5 square miles.
The lake sits just off Green Pond Road, behind a parking area for a ball field. And it's a pretty little thing, and no doubt means a lot to the community as a place to fish and watch birds.
Holding back the lake is a 500-feet long earth and stone dam, varying in height from 4 to 13 feet. It has a grassy top with a pathway worn by the feet of fishermen and dog walkers.
The spillway creates a waterfall that tumbles into the boggy, wooded acreage in front of the dam. That area is littered with cans, beer bottles, wrappers, and the usual fishing trash (hooks, lines, sinkers, and their packaging).
There are dams just like it all over the country, and so many in the northeast. They once created mill ponds, or livestock ponds, generated electricity, or provided storage for floodwaters. So many of them are "relic" dams today: no longer serving the purpose for which they were built. And many, including the Hudsonia dam, are "high hazard" dams. Fixing — or just maintaining — the aging dam is constantly required. And then there are the increasingly-frequent "100 year" storm events that are hitting the Northeast. The Lake Hudsonia dam sustained notable damage after Hurricane Floyd in 1999, and became a target for the NJDEP Dam Safety Section.
A Place to Fish
When I got there, two men were ice fishing, their tip-ups stationed around the pond but close to the dam.
I wondered if they knew that, by this time next year, the lake they stood on would be a floodplain next to a brook?
Even if they did, I wondered how they felt about it.
It's always interesting to have conversations with the neighbors of dams slated for removal. Most are against it, and I can understand why.
It's difficult to lose a lake, a symbol, a historic place, a site of family gatherings or activities, somewhere you've seen animals congregate and create homes.
But, my feeling is: our waterways and habitats have given enough to industry in the last century. And it's time to give something back.
More Pictures of Lake Hudsonia Dam, Before Removal
Pre- (and post-) construction Photography
In the course of my work for the Massachusetts Division of Ecological Restoration, I've learned what it means to take preconstruction and post construction photographs of dam removal projects.
What matters is the change in the river: the creation of a floodplain. The riverbed as it's scoured back to a natural, rocky state. The path the newly-free river choses, usually on its own (the less man-made interference, the better). Seeds, stored long ago, that hatch into riverside plants.
Because these are the measurable impacts of dam removal.  You can see the difference dam removal makes — not just at the dam site, but upstream, and downstream. The floodplain spreads; rocks show up in the streambed. Rivers just become a little friskier and less sluggish.
And then there are the improvements that you can't readily see: how the water is delivered to the landscape in pulses, the way it used to be. The way its creatures know and respond to.
And this is the beautiful language of a stream healing itself. For me, there's no better antidote to the constant drumbeat of environmental degradation than visiting a dam before and after its removal.
A year ago, I was new to this. By now, though, I've photographed over twenty dam removal sites this year, from Cape Cod to Pennsylvania, and I can tell you that seeing relic dams come down is uplifting.
I highly recommend it. Find yourself a dam that's slated for removal (or one that's already breached). Then watch as the stream, or brook, or river, changes and heals itself. First comes the dewatering, and then the temporary channeling of the brook so the demolition can be carried out. You'll see an unappealing mat of mud where the pond or lake used to be, but that, too, is temporary.
Watch over a couple of seasons as the floodplain forms, and the river starts to sing the old song: water over rock, frisky and low. It's astounding, how quickly these changes happen: give it a year. And you'll never look at a dam again and say, "What a pretty waterfall."
Allman Environmental Services Photography provides progress photography and videography for environmental infrastructure and construction projects, including dam removal projects and wetland restoration. We love what we do, because we love the projects you do. We are WBE-certified in multiple states in the Northeast.
Contact us about your bid, using the form below, and we'll get right back to you.
Contact Us
Bidding a project? Just have a message? Get in touch!