The Empire State Trail, in Photos:
Beautiful Images from the newest trail
Empire State Trail Photos:
A collection of beautiful images from New York State's 750-mile hiking and biking trail
As an avid cyclist, the long-distance rail trails and canalways that now crisscross the country especially speak to me.  But — and I hate to say it — a trail can become monotonous without variety.  Or if the trail rolls on, unbroken, without towns and services along the way.
Looking for scenic, backcountry self-guided routes for your electric or pedal-assist bike?
Visit electricbikeways.com for turn-by-turn, downloadable curated routes along the remote roads of the Hudson Valley, Catskills and Western Connecticut.
So when I'm looking for a new trail to try, I look for variety.  I refer to images online and in brochures to discover new trails.  I imagine I'm not alone.
As I tagged along the annual Cycle the Erie Canal Tour, I marveled at the variety in the Canalway's landscape.  Long tunnels of green yielded abruptly to wide farmlands.  Little villages with no more than a church and a corner deli lay between larger brick-building factory towns that characterize the "belt" of Upstate New York.  Sometimes the canal rolled alongside the path.  Often it disappeared into forest or field.
I can easily say that the Erie Canalway Trail lacks not for variety or amenities!  The same holds true for the Empire State Trail.
Many picturesque towns and local businesses sit along the Canalway.  The north-south portion of the developing Empire State Trail also connects villages and attractions. If you live or work in a lucky "trail town", opportunity knocks!  Take full advantage; make sure to use beautiful imagery in your local advertising and promotion.
One of the Largest Collections of Trailway Images
I'm building a large and growing collection of Empire State Trail photos, and would love to share them with you, your Chamber of Commerce or marketing department.  Just contact me if you're looking for something specific.  If I don't have what you're looking for, I will make myself available to shoot it for you!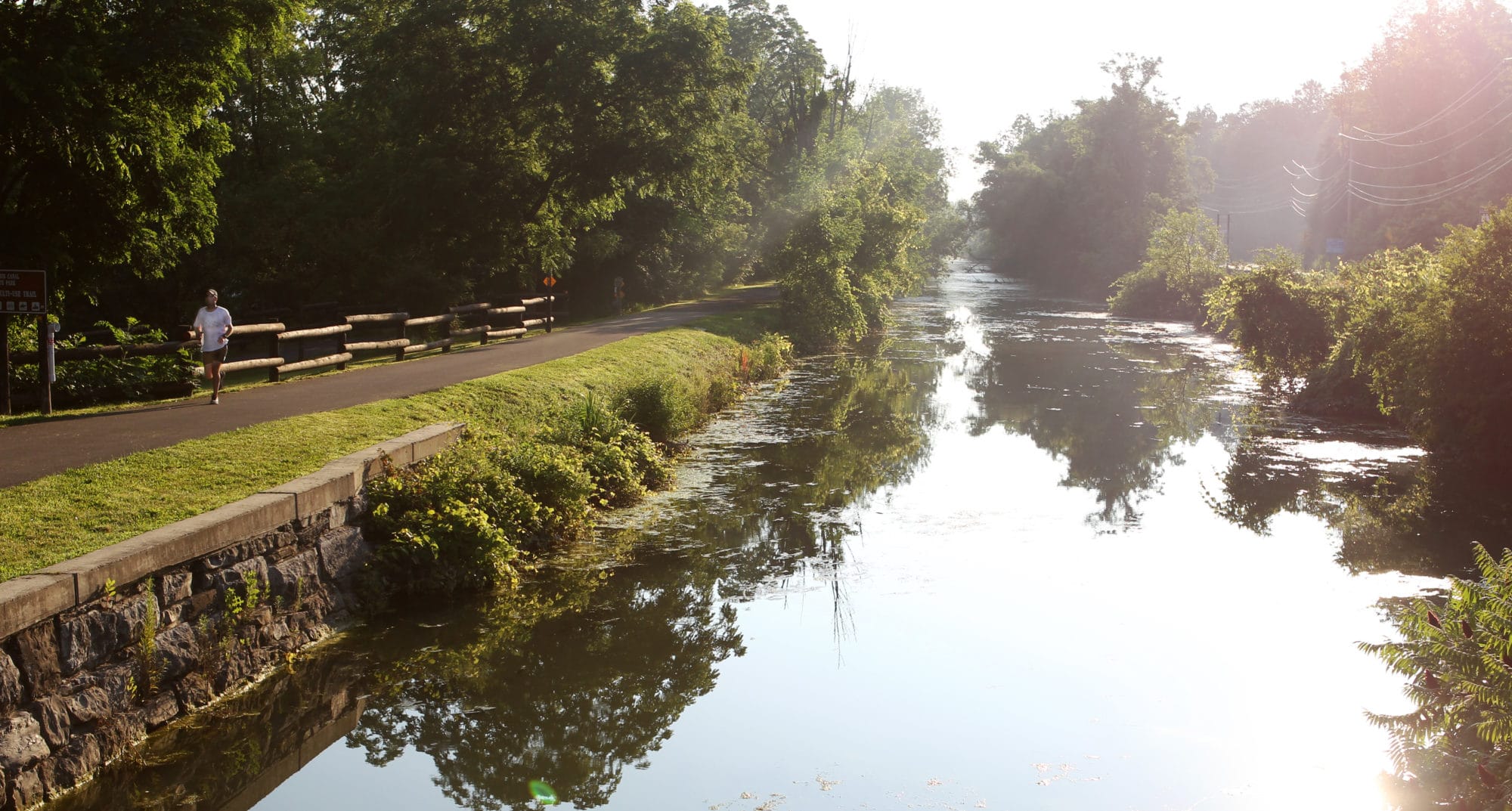 A jogger runs alongside a beautiful stretch of the Erie Canal in Manlius, New York. Green Lakes State Park borders the trail here.  It offers the perfect place to pitch a tent (or rent a cabin) for the night before continuing along the trail in the morning.  When the Empire State Trail is officially opened, multi-day travelers along the pathway will need overnight accommodation.
Show off what your region has to offer.   Use Empire State Trail photos to show the variety of landscapes, shops, towns, history and architecture. Leave plenty of space for text!  Mix it up with aerials, detail shots, wide "context" pictures, "people" photos.  Most of all, appeal to visitors who will be showing friends and family where they're headed.